Web hosting is one of the key factors of creating a successful WordPress site. There are various types of WordPress hosting options. For example: Free WordPress hosting, shared WordPress hosting, WordPress hosting on a VPS server or dedicated server. It's really important that you choose the right WordPress hosting option so you can run your website smoothly in future. In this WordPress hosting guide I am going to help you find a suitable hosting option.
Requirements for WordPress hosting
Currently the requirements for hosting WordPress on a web server are the following:
PHP 5.2.4 or greater

MySQL 5.0 or greater

The mod_rewrite Apache module
Usually all the major web hosting companies now support those requirements since WordPress is a popular CMS for running a website. Some of them even have a "one-click" WordPress install option which allows you to set up a site run by WordPress in no time.
What to Expect in a WordPress Hosting Service
The first thing that you want to consider is the support they provide. But still it all comes down to what you actually need to run on your site. Based on your needs you will probably want to try one of the WordPress hosting option mentioned above.
WordPress hosting on a free server
Usually this type of hosting is offered by a company or individual trying to make money out of you in some other ways. For example: putting their ads on your site. Sometime you can't even get your own domain and they expect you to create a sub-site under their domain name. In a word, it's terrible. You want to stay away from any kind of free hosting if you are planning to build a serious business.
WordPress hosting on a shared server
This is one of the popular hosting options chosen by the new WordPress users. It allows you to run your site at a cheaper cost and start building traffic towards higher goal. So how does shared hosting work? shared hosting means you are sharing the server with other users. You are allocated a small portion of a big server and thus the hosting company can give you an affordable price for hosting your site.
WordPress hosting on a dedicated server
When you are getting a huge amount of traffic you will need a dedicated server. It allows you to have a dedicated server only for you and take full control of it. If you do not have a system administrator to monitor your site you should probably consider the managed dedicated server. A managed dedicated server allows you to have a system administrator who will regularly maintain your site and update the software if necessary.
WordPress hosting on a VPS server
VPS hosting allows you to host your site on a virtual server. It gives you even better control and you can choose everything you need to run your site.
WordPress hosting on a managed server
Some of the web hosting companies have come up with a managed WordPress hosting service. It allows you to optimize your site only for WordPress. This gives you better performance and flexibility when running your site. If you are a new user and has no experience or whatsoever with hosting you might consider the managed WordPress hosting option.
Top WordPress Hosting
Below are some reviews of the best WordPress hosting providers that people like to use:
HostGator WordPress Hosting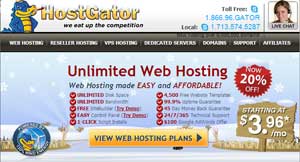 Hostgator is one of the leading web hosting companies for WordPress hosting. They host over 9 million domains and it's increasing. HostGator provides 24/7 support with 99.9% up time for your site. It offers one-click WordPress install and an easy to use interface to mange your hosting account.
Read the HostGator WordPress Hosting Review
InMotion WordPress Hosting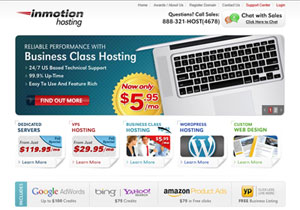 InMotion has been in the web hosting industry for a long time for its reliability and performance. They have the award winning U.S based support. They can offer you a optimized WordPress hosting with 99.9% up time.
Read the InMotion WordPress Hosting Review