WordPress hosting is the service of maintaining a WordPress site live on the Internet, 24×7. Bluehost is one of the few hosting companies that hosts millions of WordPress sites around the globe. The current stats say that Bluehost receives more than 20,000 new customers every month – something that shows how reliable it is. Apart from this, the regular customers are always renewing their packages at the appropriate frequency.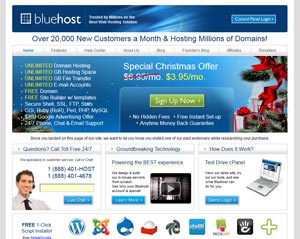 Website: https://www.bluehost.com
Features: ***** (5 star)
Support: ***** (5 star)
Pricing: **** (4 star)
Reliability: ***** (5 star)
Performance: ***** (5 star)
Overall Rating: Highly Recommended!

Bluehost web hosting company has been ranked as one of the best web hosting companies by many reputable sites. Following is a detailed bluehost hosting review for hosting WordPress sites, explaining the reasons as to why it is included within the list of the best web hosts.
Level of Ease
The first thing to consider when buying web hosting is the ease of usage of the tools and features available. Bluehost uses the evergreen cPanel for handling all the needs of its users. The cPanel clearly states each and every feature. All the tabs are drag-n-drop ready, therefore the users can move the important ones at the top so that they are available instantly when needed. Bluehost also shows the 'attention required' messages at the top. Such messages are normally for upgrades, renewals and other important notices. In short, the cPanel is very user-friendly and easy to use that even a very new blogger can quickly learn the basics. For example, other hosts might put the FTP Accounts, FTP Session Control, File Manager and File Counts under a simple sub-tab named FTP. This might make users a bit lost in the beginning, but Bluehost keeps it all in front of the eyes.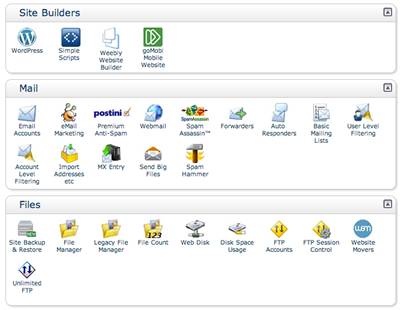 My Rating – 9/10
Applications
As seen in the picture above, installation and usage of applications is just a single click task in Bluehost. Many web hosting companies keep the application hidden under the name of 'Software' or '3rd Party Apps' etc., but Bluehost knows its users. WordPress, being the most used software for sites and especially for blogs, is kept right ahead of anything else. All the other applications such as Joomla, Drupal and many more lie under the 'Simple Scripts' icon. Installation of the application(s) is just one more click away. Just 4 simple steps required, and its all done in no time!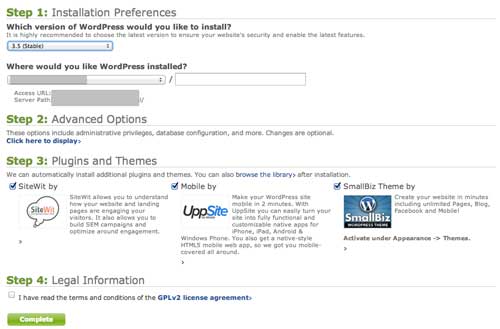 It's the same with all the other applications – 2 click installation and done! Also, if there are many installations, such as 10 WordPress installations, all can be upgraded from a single place! Yes, one doesn't have to manually upgrade every blog.
My Rating – 8.5/10
Performance
By far, performance is the highest priority when it comes to WordPress web hosting. Therefore, Bluehost also gives it a very high priority. Being in this industry for several years, there hasn't been any big crash/downtime from Bluehost's side. Compared to companies such as GoDaddy, which has had many downtimes and some that brought millions of sites down, Bluehost has been consistent and stable when it comes to the quality of performance. Stats say that it has a 99.9% uptime – which is a good figure indeed.
There are minor issues with individual hosting but they're mostly software issues that often disrupted by the users. Henceforth, Bluehost is very promising when it comes to the performance part. It plays its role honestly, and provides a very stable uptime for all its hosted sites.
There is an article comparing Bluehosts's performance vs GoDaddy's performace. You can check it out to see how reliable Bluehost is.
My Rating – 9.5/10
Pricing
The second highest prioritized factor when buying WordPress web hosting is the price. Google receives millions of search queries on 'coupons', 'discounts', 'offers' for web hosting. Bluehost is also considered to be one of the affordable hosts not just because of its price, but also because of the mind-blowing facilities it provides with the same. Following is a simple pricing chart that shows the different pricing options offered by Bluehost. Unlike other web hosting companies, Bluehost just has 3 plans for its standard hosting.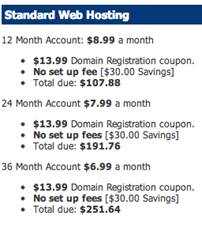 With these normal prices (prices when no 'sale' or 'coupon' is applicable), following is what you receive.
Unlimited Domain Hosting
Unlimited Hosting Space
Unlimited Bandwidth
Unlimited Email Accounts
One Free Domain (for 1 year)
$100 Google Adwords Coupon, and everything that a customer should get!
My Rating – 8.3/10
Support
When it comes to support, Bluehost doesn't lack any expertise. Even though the users might not need to contact the support team every now and then (that proves how good and easy it is to use Bluehost!), there are four different ways to reach the support team. They are mentioned below.
Email Support (Ticket System) – It doesn't take more than a few hours (roughly 3 hours) for Bluehost to reply back to any ticket. The ticket system ensures that every case is handled individually.
Live Chat – Though it may be a small question or a very detailed one, the support team is always ready to chat with the users/non-users and answer any queries/questions.
Phone Support – Another way to quickly solve issues, if any, is by contacting Bluehost via phone. Mostly all web-hosting companies have this feature, and so does Bluehost.
Forums – The forums at Bluehost are limited to its users. Mostly, the team itself answers all the questions, but there are other uses who will help you resolve any issues.
Bonus – Bluehost has a magnificent 'knowledge-base' where answers to almost all the hosting and cPanel related questions reside.
My Rating – 9.5/10
Conclusion
To conclude, it can be easily and indisputably said that Bluehost is indeed one of the best web hosting companies out there. Its extraordinary support, extremely user-friendly cPanel (which can even be used by the very new users who have no previous experience in web hosting), fanbulous support from several sources (including the users as well) and affordable pricing make it my choice of web hosting service. The only thing it lacks is a hosting plan of less than 12 months. If it starts providing that, it will undoubtedly increase its customers because new users don't usually risk in buying hosting for a year straight away. They like to try, and therefore would like to use a service for about 3 months before buying it for a full-year or more.
My Final Rating – 9.3/10 (go for it!)