InMotion Hosting is a US-based hosting company with really good customer support. Unlike a lot of other web hosting companies, Inmotion hosting's support is truly US based. When you call them, you can speak to a real English speaking person which is very good when you are trying to sort out an web hosting related issue.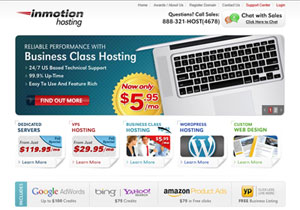 You get a 35% discount when you use the following link. It also helps me with my free plugin development work.
Website: http://www.inmotionhosting.com
Features: ***** (5 star)
Support: ***** (5 star)
Pricing: **** (5 star)
Reliability: ***** (5 star)
Performance: ***** (5 star)
Overall Rating: Highly Recommended!

Inmotion Hosting has dual data centers, one in the west coast and one in the east coast, they're one of the few providers that offers this kind of multiple data center option. InMotion's multiple locations and it's excellent customer support makes it one of the most reliable, flexible and accommodating web hosts in the hosting industry.
I really like their free SSD hard drive option (it makes a big difference on your page load time).
Inmotion Hosting Plans
Inmotion hosting mainly offers the following plans
Business Class Hosting – $5.95/month (Very good for small business)
WordPress Hosting – $5.95/month (Good for startup bloggers)
VPS Hosting – $39.95/month (Good for medium size business website)
Dedicated Servers – $199.95/month (Good for sites receiving a lot of traffic)
InMotion Hosting Feature Highlights
InMotion offers many of the usual hosting basics, including unlimited disk space and bandwidth, lots of ready-made scripts, multiple email and FTP accounts, cPanel etc. The following is a list of features Inmotion hosting offers that stands out:
Long trial period – InMotion has a 90 day trial period which is unbelievable
Disk space allowed – Unlimited
Free Domain – yes
Min Bandwidth Allowed – Unlimited
Addon domains – 2
Free site builder – yes
CGI/BIG Access – yes
FTP Access – yes
HTTPS Support – yes (will need to purchase SSL certificate)
Fast Site load speed – Max Speed Zone enabled (utilizes their multiple data centers to serve your website from the closest possible location which ensure a faster page load)
Good reviews – Inmotion seem to have true good reviews from other users who are using their hosting
Scale up easily – You can easily scale up as your website grows over time and requires more CPU and memory power
InMotion Hosting Shortcomings
InMotion hosting does have a few weaknesses too:
Pricing – Their pricing is slightly higher than the average. This probably has something to do with the supreme quality support they offer
Limited addon domains – They only allow 2 addon domains for their cheapest hosting package. Other hosting in the same range (example: BlueHost, Hostgator) offers more
Limited MySQL databases – This is not a big issue but bargain hunters might consider this a drawback
InMotion Hosting Server Uptime Review
InMotion hosting has 99.9% uptime guarantee like most other hosting providers. However, InMotion actually delivers their promise. I personally use them and monitor the server uptime using my PingDom account and I can confirm that InMotion delivers 99.9% server uptime.
Below is a server uptime chart for a website that I host with InMotion hosting: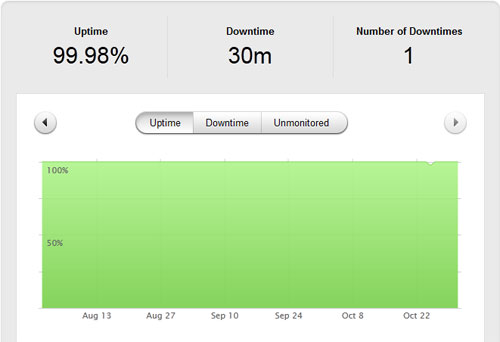 InMotion Hosting Server Response Time Review
InMotion Hosting's server response time is under one second (typically around 500 ms) which is really good too. The quicker the response time, the quicker your website loads (so low response time is good for your site).
The following chart shows their response time for a website that I host with them: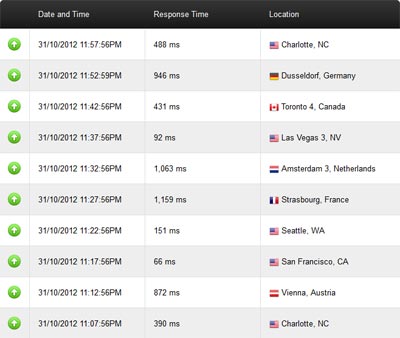 Conclusion: Best for Business and WordPress Website
In my opinion, InMotion hosting offers the best features for businesses and WordPress powered sites. If you are creating a website to sell a product or service from your site then definitely go with InMotion Hosting.

You get a big discount on your hosting plan when you use the above button.
Disclosure: If you click on the above links and sign up for a hosting account, I will receive compensation from the companies whose services I have reviewed in this page. I only recommend products or services after I have tested it and I believe in it. The opinions expressed here are my own. The funds are used to maintain my free WordPress plugins.