WordPress iSell is an easy to use WordPress plugin to sell digital downloads from your WordPress site (for free). This plugin is designed to do one thing only but do it really well, which is to sell digital downloads from your WordPress site via PayPal.
Plugin Details
App Category
Software Name
Version
Date Modified
Operating System
Description
A plugin to sell digital downloads from your WordPress site
Landing Page
File Format
WordPress iSell Plugin Features
Sell any kind of digital downloads – sell ebooks (PDF files), sell photos, sell music (mp3), sell videos, sell podcast etc.
The plugin instantly delivers the digital download to the customer after purchase by sending an encrypted download link via email.
Very secure file downloads using an encrypted file download system. The real location of your digital download is never revealed.
Sell digital downloads via PayPal (the money from the sales will go right into your PayPal account)
Create unlimited products
You can also create custom orders
Ability to upload large files for products (this plugin has a file uploader)
Manage products and orders through standard WordPress User Interface (UI)
The user interface is very easy to use
WordPress iSell is a developer friendly plugin and very extendable (it has many hooks that you can use to extend the plugin)
You can customize your Buy/Purchase button image. This is handy for using it on a landing page
WordPress iSell Installation
Go to the Add New plugins screen in your WordPress admin area
Click the upload tab
Browse for the plugin file (sell-digital-downloads.zip)
Click Install Now and then activate the plugin
WordPress iSell Setup
Go to Pages->Add New on your WP dashboard and create the following pages:
1. Thank You – One Thank You page thanking the customer for the purchase
2. Transaction Error – One Transaction Error page with the following shortcode embedded in it:
[isell_errors]
If something goes wrong with the transaction your customer will be able to see the errors on this page.
3. Product Download – One Product Download page with the following shortcode embedded in it:
[isell_download_page]
This page will be used to serve downloads to your customer after a successful transaction.
Once you have created those pages you can now move on to the WordPress iSell settings.
WordPress iSell Settings
Go to iSell on your WP dashboard.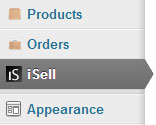 It will take you to the Settings menu of the plugin.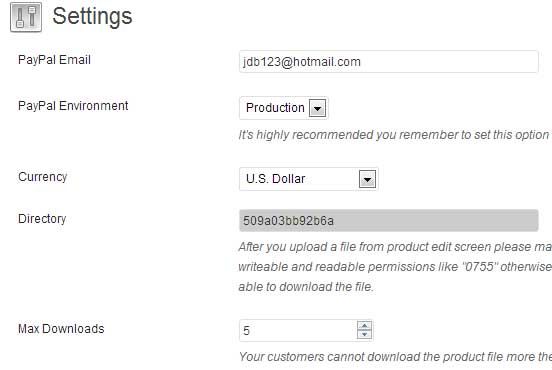 There are various options that you can configure here.
PayPal Email: Your PayPal email address where the payment will go for each transaction.
PayPal Environment: You can either do the transaction in sandbox mode or live mode. Make sure to set this option to Production when your site goes live.
Currency: The currency that will be used to accept the payment.
Directory: The directory that will be used to contain the downloads. The plugin automatically creates the directory when you install it. It gets created in the root directory of your site. If the directory doesn't exist you may need to manually create it. Make sure that the directory is both readable and writable (0755 permission).
Max Downloads: The number of times your customer can attempt to download a file.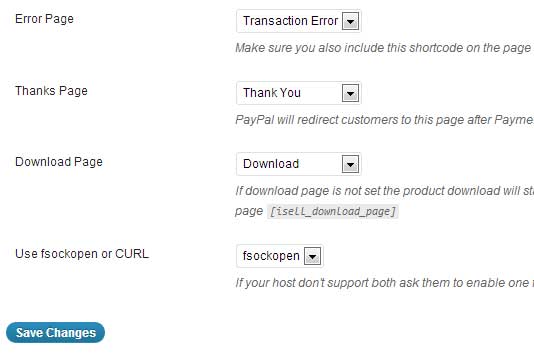 Error Page: Select the Transaction Error page that you created earlier.
Thank You Page: Select the Thank You page that you created earlier.
Download Page: Select the Product Download page that you created earlier.
Use fsockopen or CURL: Select the method that will be used to validate IPN (Instant Payment Notification) with PayPal. If your server doesn't support either you need to contact your hosting provider and have them enable one for you.
Click on the Save Changes button to save all the options.
WordPress iSell Product Configuration
Now that you have the settings configured you can start creating new products. Go to Products->Add New on your WP dashboard.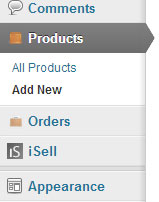 Enter a name and price for the product.

A Buy Now Url for this product will be automatically generated for you. You can use this as a destination URL for your Buy Now button image (It means when a user clicks on the button image they will be redirected to PayPal to make the payment for this product).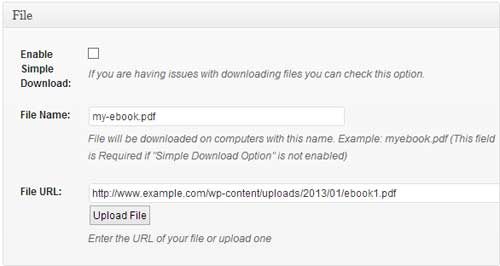 In the File section there is an option for you to upload your digital file. First, select the file on your computer and hit the Upload File button. Alternatively, you can upload the file via FTP and specify the URL in the File URL field. If you are using the default download option (Enable Simple Download unchecked) you need to also set a custom name for your file in the File Name field. Your customer will see this name instead of the actual file name while downloading the file. Click on the Publish button to save the product.
You are almost done with the setup. Now all you need to do is create a new post/page (Posts->Add New or Pages->Add New) and insert a text link, image or a button. It's totally up to you what you want to use. You just need to make sure that the destination URL (The URL where the user will be redirected to once clicked) is set to the Buy Now Url of that specific product.
Once a user makes a successful transaction they will receive an email containing the digital download link.
You can always view the details of a transaction from the Orders menu.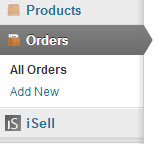 That should be it. You are now ready to sell digital downloads from your WordPress site using the WordPress iSell plugin.
If you have any issues with this plugin please post it on our support forum.
If you need a more robust method of selling digital downloads, please check the
WP eStore
plugin.