In the web hosting market, there are several (hundreds to be more specific) competitors and some of them lead the market. Examples of the top web hosting companies, especially for WordPress are: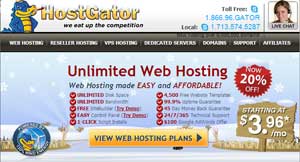 Website: http://www.hostgator.com
Features: **** (4.6 star)
Support: ***** (5 star)
Pricing: **** (4.5 star)
Reliability: ***** (5 star)
Performance: ***** (5 star)
Overall Rating: Highly Recommended!

In this Hostgator hosting review, we will look at the reasons why Hostgator is proven to be extremely good and affordable for hosting WordPress sites. I will also share a 25% discount code.
WordPress is a free CMS platform that is being used by millions of people around the world, and the number is increasing every day. It has been proven to provide an extremely user-friendly platform for blogging and also for normal sites. Stats from reputable sources say that nearly 50% of the sites on the web are powered by WordPress!
WordPress Installation on HostGator
Installing WordPress on Hostgator is just a couple of clicks away. On the cPanel, a small tab named 'QuickInstall' is present. That tab contains a huge list of applications that can be installed with a single click, and WordPress is at number 2 on the list.
While the installation takes no more than 1 minute, it only requires the user to enter a few important details that are required by the WordPress databases. Information such as the email address and username are vital. The rest can be done later, and the password is automatically generated, if not specified. It is best to use the automatically generated password as it will be a strong one (good for security).
Also, an email with all the details is immediately sent to the registered email address upon successful installation.
Exceeds The WordPress Minimum Requirements
WordPress has some minimum requirements in the backend. Though these requirements don't have any effect on the main site, they very much do in the backend.
Hostgator claims to 'exceed' these minimum requirements by far. Therefore, it guarantees a successful installation at any given time.
Latest Versions of Apache, MySQL, & PHP
Apart from the minimum requirements, WordPress needs tools that actually make everything work. Apache (web servers), MySQL (databases) and PHP (language) are some of the key and very essential tools needed by WordPress. Without these, WordPress doesn't function properly.
Hostgator is capable of having the latest updated version of all these tools, amongst many others, so that the WordPress installation never faces any minor issue.
Latest WordPress Version
Needless to say that every user would definitely want the latest version of anything, provided that a previous version is not required to carry out a specific task/experiment. WordPress often updates its core files. Core updates on a major release often comes with a lot of features and especially better user-interface.
Host gator always keeps an eye for every minor update to WordPress professionally. For example, if WordPress is updated to a new release, Hostgator will know that and take measures to tune their severs accordingly.
Pre-Installed WordPress Plugins
You might very well know that WordPress supports the integration of functionality through WordPress Plugins. Although there are specific plugins that are a must have in WordPress, there are some important ones which one should consider installing.
Hostgator comes with 3 important plugins that have great advantages:
Akismet (Protects you from spam comments)
Jetpack by WordPress.Com (Has a bunch of useful plugins)
WP Super Cache (makes your site load faster)
Now let's go through some general aspects of Hostgator hosting.
Server Performance
Hostgator has been successful enough to have an uptime of more than 99.9%. This means that more than 99.9% of the time, ALL of the sites hosted on Hostgator servers are live and up, without having any issues. Individual sites, however, might face issues depending on a particular situation.
Many site owners who switched to Hostgator have appreciated its performance and have also compared it to many other big names in the industry.
All this definitely proves how dedicated Hostgator is, towards providing quality servers performing well 24 hours a day and 7 days a week.
Pricing
Pricing is one of the main factors for anybody prior to purchasing web hosting. Although there are many free hosting providers out there, paid hosting is always worth it no matter what. Many say that the more expensive a hosting plan is, the better it will be. Well, that is true but that doesn't mean that the less expensive ones (such as Hostgator!) are not good at all.
Following are the pricing plans of Hostgator:
Hatchling Plan
Price – $3.96/Mo (Minimum)
Main Features –
Single Domain
UNLIMITED Disk Space
UNLIMITED Bandwidth
Shared SSL Certificate
Baby Plan
Pricing – $6.36/Mo (Minimum)
Main Features –
UNLIMITED Domains
UNLIMITED Disk Space
UNLIMITED Bandwidth
Shared SSL Certificate
Business Plan
Pricing – $10.36/Mo (Minimum)
Main Features –
UNLIMITED Domains
UNLIMITED Disk Space
UNLIMITED Bandwidth
Private SSL Certificate
Free Toll Free Number For Support
Therefore, it can be said that Hostgator provides a good number of choices for the users to decide. The users can choose any of the plans above that suit their requirements. Also, the users can easily upgrade from one plan to another at any time.
Support
Hostgator provides a very dedicated support system to its clients. It's keen and ready-to-help support staff always sort out any issues for the users. Following are the platforms used by Hostgator to provide support:
Live Chat
Any questions, be it billing, technical or general, are directly answered via live chats. The support staff tries to solve any problem, and in most cases does it.
Email Tickets
Patient users can also open 'tickets' which are taken as individual cases, and solved as per the situation.
Support Forums
Hostgator has a dedicated forum where many staff members are online 24×7 and check new posts frequently (every minute) and try to answer the queries. Being the 'admins' of the forum, they do get notifications for every post/thread.
Documentation
Hostgator has a well-organized documentation to answer many general queries of the users. Support staff often directs the users to the articles in the documentation to answer their general queries.
Conclusion
To wind up, it is proven that Hostgator hosting is one of the best web hosting companies out there. Their support for WordPress makes hostgator one of the very best for hosting a WordPress site.
HostGator Discount
Use the following coupon when ordering your hostgator hosting to get a further 25% discount
WPCOMMERCE