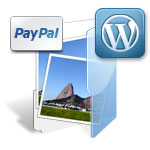 WordPress iSell Photo plugin allows you to sell photos/prints/images from your WordPress powered site easily. It gives you the flexibility of creating a digital photo store in WordPress without using a single heavy-weight and hard to setup plugin.


Plugin Details
App Category
Software Name
Version
Date Modified
Operating System
Description
A WordPress plugin to sell photos from your site
Landing Page
File Format
Plugin Description
WP iSell Photo plugin utilizes the built-in gallery feature of WordPress and helps you turn your simple photo gallery into a powerful e-commerce WordPress photo gallery.
Plugin Features
Sell photos from your WordPress blog/site easily
Setting up the iSell Photo plugin DOES NOT require advanced technical knowledge
Increase your conversion with one-click PayPal checkout
Create beautiful e-commerce photo selling gallery on your WordPress blog
How to Create a Photo Gallery in WordPress
WordPress allows you to manage all your images from the media library. You can insert these images to a post/page and create a photo gallery very easily.
Step 1) First, create a new post/page on your WordPress dashboard.This is the page where you will display your photo/image gallery.
Step 2) Look for the upload/insert media files option in the editor.
Step 3) Now select the photos/images from your computer and upload them to the media library. As you upload each photo, you will see a Gallery tab which contains the uploaded photos. Switch to that tab once you are ready to insert the gallery into your current post/page.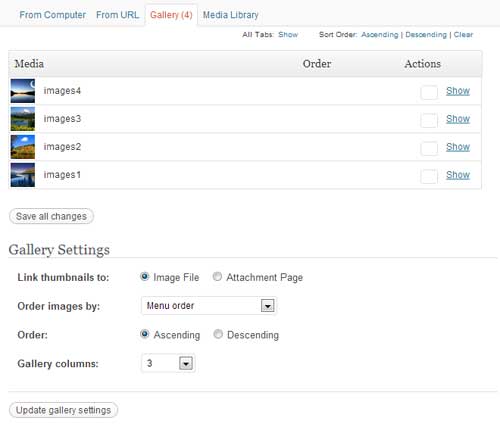 There are some options that you can configure for the gallery you just created (under the Gallery Settings section).
Link thumbnails to: a) Image file b) Attachment Page – you can either link each thumbnail to its URL or the attachment page (the page/post you are currently editing)
Order images by: a) Menu order b) Title c) Date/TIme d) Random
Order: a) Ascending b) Descending
Gallery columns: 1 – 9 ( Number of thumbnails in each row)
Step 4) Finally hit the Insert Gallery button and the gallery will be automatically inserted to your current post/page.
You can edit the gallery at any time by clicking on the gallery icon (It looks like a rectangular image in the visual editor). Alternatively you can also customize the shortcode for the gallery. You need to switch to the Text editor to do it. You will see a shortcode like the following:
[gallery ids="12,14,8,15"]
You can learn more about customizing the WordPress gallery shortcode here
How to Sell Photos Using the iSell Photo Plugin
iSell Photo Plugin Demo
We are going to convert your WordPress photo gallery into a photo selling gallery using the FREE WP iSell Photo plugin. The photo selling gallery will look like the following. This will allow your users to purchase a photo/print by clicking the "Buy" button below each photo/print.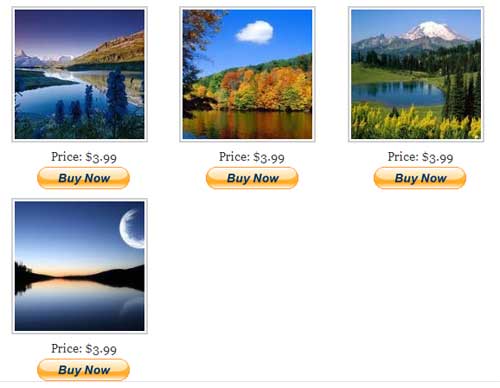 iSell Photo Plugin Installation
Go to the Add New plugins screen in your WordPress admin area
Click the upload tab
Browse for the plugin file (wp-iSell-photo.zip)
Click Install Now and then activate the plugin
iSell Photo Plugin Configuration
Now that you have set up a photo gallery, you can turn it into a digital photo store to sell photos easily. You just need to configure some options in the General Settings of the WP iSell Photo plugin before you can start selling photos. Go to Settings->WP iSell Photo (on your WP Admin Dashboard). It will take you to the Settings page of the iSell Photo plugin.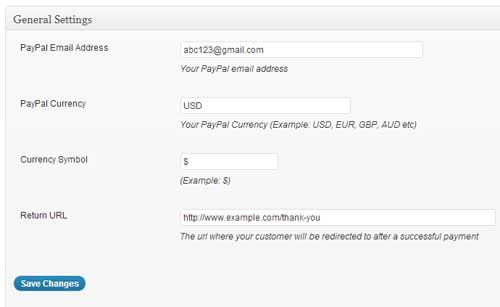 You need to configure the following options in this settings area:
PayPal Email Address: Your PayPal email address. This is where the money will go to when someone purchase your photos
PayPal Currency Code: The currency code (example, USD, GBP etc). You will accept money in this currency from your customers.
Currency Symbol: The symbol for your chosen currency (example: $). It's for display purpose only.
Return URL: The URL where your customers will be redirected to after a successful payment. This is also known as the "Thank You" page.
iSell Photo Plugin Usage
Go to the post/page where you already have an existing WordPress gallery embedded. Add an additional amount parameter to the gallery shortcode and specify the price via this parameter. For example:
[gallery amount="3.99" ids="12,14,8,15"]
Now, each image of this photo gallery will have a Buy Now button with a price of $5.00. Basically, you are saying that I want to sell my photos for $5.00 each (you can obviously use whatever amount you feel like).
You can also customize the look and feel of the Buy Now button. Simply include a button parameter in the gallery shortcode and specify the text that you want to use in the purchase button. For example:
[gallery amount="3.99" button="Buy it Now" ids="12,14,8,15"]
The above shortcode will create purchase buttons for your photos which will have the text "Buy it Now".
If you want to use an image for the button you can do so by specifying the URL in the button parameter. For example:
[gallery amount="3.99" button="http://www.paypal.com/en_US/i/btn/btn_buynow_LG.gif" ids="12,14,8,15"]
If you have any issues with this plugin please post it on our support forum.
If you need a more robust method of selling photos, please check the
WP Photo Seller
plugin.